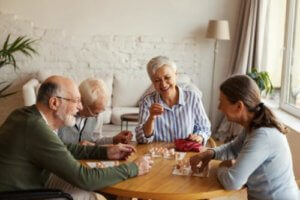 Independent Living at Seaton Voorhees gives residents unrestricted and full access to amenities intended to make an impact that's positive in their lives, but still, monthly costs are kept low and stable. It's a big reason why residents get more for their money at Seaton Senior Living…and that means you get good value every month!
Just imagine a lifestyle with so many different options for recreation, fun, and especially silent relaxation within the palm of your hands every day. From our senior-specific fitness classes to informative lectures, live music and performances, and watch parties in our large-screen TV lounge, we make it easy to stay active and become immersed in all that's great about daily living at Seaton Voorhees. Our events and activities program can even help residents remain involved with lots of community traditions and functions that go on throughout the entire year in and around our South Jersey community.
In our Independent Living community, exhibitions and culinary classes, our activities and game rooms, in-house religious services, and library give residents the chance to continue old passions and find new ones. In addition, with trips regularly scheduled to our favorite, shopping areas, seasonal events, restaurants, and many more, it is simple to stay in touch with family and our local community.
For the best convenience, we also offer a full-service barber shop and beauty salon so you can get pampered here at home whenever you want. Also, there are lovely, outdoor gathering and seating areas suited for you to surround yourself with nature and sipping a refreshing sweet tea or soft drink.
Come explore Seaton Voorhees for yourself, and experience how the resident-focused amenities in our community open up exciting opportunities daily for personal enrichment and also socializing with friends and neighbors and bonding over our many, shared interests.
Our Community's Amenities Include:
Restaurant-Style Dining with Table Service
Three Meals Per Day Plus Snacks
Available Private Dining Experiences
Daily Activities, Recreation and Social Events
Live Entertainment
Local Outings and Excursions
Fitness Equipment
Scheduled Wellness Classes and Yoga
Professional Beauty Salon and Barber Shop
Atrium
Sundries Shop
Game Room and Billiards Lounge
Well-Stocked Library
Private Courtyard and Community Garden
Scenic Walking Paths
Outdoor Patio
In-House Chapel with Religious Services
Pet-Friendly Community
Exceptional features goes above and beyond the amenity areas of our community; they are also observed and felt throughout our comfortable suites and one- and two-bedroom apartment homes. That is where high-quality finishes, functional floor plan design, and attentive services (maintenance and housekeeping, laundry and linen) make daily living more comfortable and worry-free.
Suite and Apartment Home Features:
Several suites, One- and Two-Bedroom Floor Plan Options
Kitchenettes with Refrigerator
Landline Telephone Hookups
Spacious Bathrooms with Walk/Roll-In Shower Tub
Walk-In Closets (Per Plan)
Laundry Facilities
Basic Cable TV
Most Utilities Included (Wi-Fi, Electric, Water, etc.)
Wheelchair-Accessible Entryways, Halls and Apartment Homes
Designer Carpeting, Flooring and Window Treatments
Sprinkler System and Smoke Alarms
Emergency Response System with Pendant
Safety-Assist Handrail in Bathrooms
Scheduled Transportation to Errands, Events and Local Appointments
Weekly Housekeeping and Light Linen Service
Comprehensive Maintenance of Community, Grounds, and Apartment