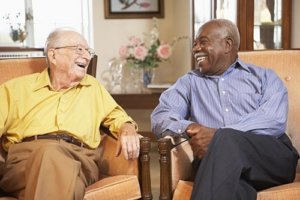 At Seaton Senior Living, we recognize that seniors aren't "one-size-fits-all," and we believe that senior living shouldn't be either. That's why collectively, Seaton Senior Living communities offer a variety of senior living and care options, including Active Independent Living, Assisted Living and our outstanding, person-centered Memory Care.
Seaton Senior Living communities even provide short-term (14-30+ days) Respite Care options for seniors and families that need a high-quality senior living solution in a pinch, like before returning home following acute care discharge or if ever a primary caregiver is going to be away or unavailable for a period of time.
Our Active Independent Living option can help empower a retirement lifestyle that's filled with fun and freedom. Alternatively, our Assisted Living and Memory Care options make fine choices for seniors and families that are searching for reliable and more care-focused solutions. For seniors and families searching for reliable, care-focused solutions like Assisted Living and Memory Care, Seaton Senior Living communities represent fine choices. Our senior living options are designed to be flexible and allow for more personalized care and service that better meets the needs of today's senior population.
Today more than ever, it's easy to get caught up in all the superb senior living amenities, dining and wellness programs and the like, but selecting a community with the most suitable living option(s) really should be the #1 factor in any decision process. You need a solution that will last even if additional and/or more specialized care is needed in the future…and at Seaton, we can provide that!
Whether it's the ability to select from multiple senior living options on a common campus or to receive additional care and lifestyle services as needs dictate, choosing Seaton Senior Living can be a smart and sustainable move for a majority of today's seniors.
So come explore Seaton Senior Living with confidence, knowing that our family of communities can meet present-day needs as well as offer viable solutions in case lifestyle and/or health care needs should ever change or intensify in the future.
Please read on to learn more about the various senior living options available at Seaton Senior Living communities, and of course, contact us anytime for firsthand, professional guidance, and if you need help determining which living option may be the best fit for you or your loved one.
(Available living options may vary by community, so feel free to contact a Senior Lifestyle Counselor to learn about the available living options at your community of choice.)